Volunteer
Making a difference to young people's lives is always an incredibly rewarding feeling for our volunteers and many of them choose to return and volunteer with us on a regular basis
There is a multitude of ways you can volunteer with us and our volunteer teams play a significant part in delivering our range of workshops, events and youth programmes.
You might choose to help out at one of our social action days or community fun days, or perhaps you would prefer to gain experience within our school programmes, holiday clubs or youth clubs – however you choose to take part, volunteering with us is an excellent first step for anybody who is keen to work with children and young people.
Making a difference to young people's lives is always an incredibly rewarding feeling for our volunteers and many of them choose to return and volunteer with us on a regular basis, because they find it to be such an enjoyable way of investing their free time.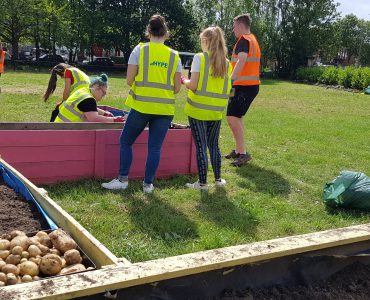 You can join our team
Make a difference in your community, gain valuable work experience and make new friends by volunteering with us at HYPE. Send us your contact details and we'll be in touch to talk about the best programmes you can help us out on.